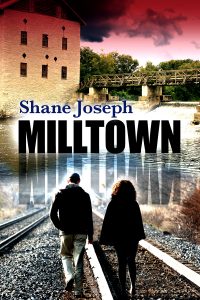 Previously I blogged about using videos to get the word out about your book(s). Now, I'm going to talk about old school – well, only in the sense that it is an in-person presentation. But it is not only a reading or readings. A writer-friend once told me that authors reading more than five minutes can start to bore the audience. I suppose that does hinge on what and how the author is reading.
And this is not a lesson on how to read book excerpts in public. Maybe in another post…
My publisher, Blue Denim Press, has come up with a unique presentation setup that guarantees not to bore the audience. Here's the blurb for it and below a bit more info.
Small Presses: Guerrilla Book Marketing in the Digital Age
Join the East End Writers' Group for an evening with the Blue Denim Press Gang. Readings from Shane Joseph's latest novel, Milltown, and Barb Nobel's debut short story collection, Edgy People, with a duet by Sharon A. Crawford (Beyond Faith) and Michael Dyet (Hunting Muskie) featuring characters from their books. After a mix, mingle and snack break, join these authors and their publisher in a panel discussion on how the Small Press is filling the void in publishing today.. Hosted by Gail Murray.
I start the whole she-bang off with a short (promise) welcome to all including a brief (really) history of the East End Writers' Group, then turn it all over to our real host, Gail Murray a poet and travel writer and longtime member of East End Writers' Group. Gail will introduce each presenter, one by one.
Barb Nobel is up front to read a short funny excerpt from her short story collection Edgy People.
Michael Dyet and I are up next – we get a bit more serious except for one of my reading excerpts which is a bitchy fight between two women in Beyond Faith. Michael and I will be doing something we do in our War Between Genre Fiction and Literary Fiction presentation – taking on the roles of each other's characters in our excerpts from our books – :"Slipstream," from Michael's short story collection Hunting Muskie and my mystery novel Beyond Faith. As with the "War" presentation, Michael gets to read a variety of characters. But we have a switcheroo in here. And there is a dog in my presentation – but he has no speaking parts, but he is there as he is important to our reading'; theme – relationships in families and all the things that they entail.
And no, Michael and I won't be dressing up as any of our characters. But there are rumours circulating that a character from one of the books by one of us authors will make a surprise appearance.
The fourth author in the presentation, Shane Joseph will be reading from his latest novel (launched this spring) Milltown.
Then we are going to break for what has become a tradition of East End Writers' Group gatherings – the networking snack break or mix and mingle and eat and perhaps buy some books. (the latter is not at all of our meetings). Hey, writers, readers and most everyone else likes to eat.
After the break, we four authors return to the stage and the table for a panel discussion that will hit on and expand the title of this presentation. Gail Murray will moderate and keep us in line if we get too chatty. There wil also be q and a as we want some audience participation.
And afterwards  – some more chatting with anyone from the audience who hangs around. Books still available for sale then, too.
And clean up and clear out.
And a thank you to the S, Walter Stewart library branch for hosting our East End Writers' Group meetings and presentations.
Below are the location, time and date details and the covers of the books for the remaining two authors.
Location:
S. Walter Stewart Library branch
170 Memorial Park Ave., Toronto, Ontario, Canada
Time and Date:
6.30 p.m. to 9 p.m., Wednesday, May 29, 2019.
All welcome And did I say that admission is free?
See you there.
Cheers.
Sharon