"Your dad has cancer." That's the beginning of my new book. And it has arrived.
If some of you thought I had dropped off the face of the earth, I can't really blame you. It has been a couple of months, not just the usual couple of weeks since this author appeared on her author blog. Not COVID-19 (not yet, anyway, and hopefully never), but I have been busy. Yes, some with client work, some with my garden,  some with moderating twice-a-month Zoom meetings of my East End Writers' Group, and spending these COVID-19 times chatting weekly with my son on Zoom. Somewhere in there I was rewriting and rewriting another book to meet my publisher's deadline. And I did. But there is something different here. My new book is not another in the Beyond mystery series (although I have been working on the fourth Beyond book).
Drum roll here: MY NEW BOOK IS A MEMOIR. After 18 years of on-and-off writing, through several versions with several different content, it is done. And it is about time. I've been teaching memoir writing workshops for 10 years, so now the teacher has to put her pen where her mouth is  – or something like that.
So, folks,  meet meet me from age four to 22  in my memoir THE ENEMIES WITHIN US.
Oh, oh. PI Dana Bowman, who is not in my memoir, is insisting she step in now. She wants to introduce the new book. She is already doing that elsewhere, Give someone an inch and they will take a mile. And don't ask me to put that in metric. When I was a child we measured in feet and inches, not centimetres and metres. Okay, over to you Dana.
Sharon wrote a memoir about her childhood  way way back in the 1950s and 1960s. Unlike me with my fraternal brother, Bast, she was an only child, her parents were what she calls "elderly," She won't tell you this, but the book's title wasn't the first. She went through many titles and finally her publisher, Shane, at Blue Denim Press  came up with
THE ENEMIES WITHIN US  – a Memoir

And here it is…
Another drum roll please.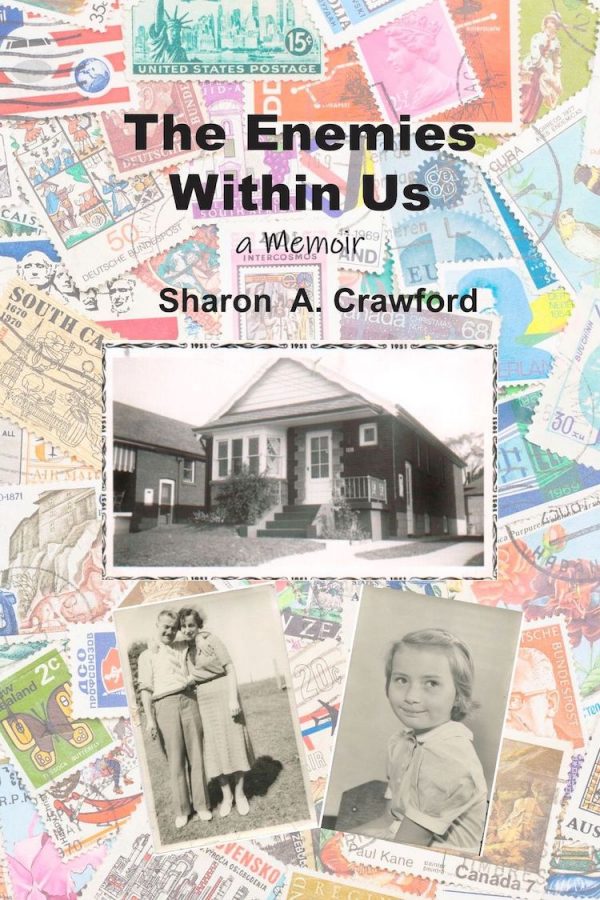 Okay, back to you Sharon.
About time. Dana eluded to some of the memoir's content. Perhaps the best way to summarize what the book is about is to post the synopsis on the back cover of the book.
"Your dad has cancer." Ten-year-old Sharon hears these words. Not from her parents. They lied. Set mainly in 1950s and 1960s Toronto, this  is Sharon's story before and after Daddy's dirty little secret surfaces. Before, she is Princess to her elderly father's King. He protects her, a shy only child, from best friend, The Bully. Sharon also deals with a bullying nun at school. She distracts herself playing baseball and piano, riding the rails with Mom and railway timekeeper Daddy, and visiting eccentric Detroit and rural Ontario relatives. After learning the truth, Sharon withdraws from Daddy. At 13, she teaches Mom to play the piano. Then Daddy gets sick again, and again…and dies.
Sharon A. Crawford's memoir is a powerful, sometimes humorous, account of a young girl's lessons learned from difficult teachers – bullying, betrayal, and cancer.
In future blog posts I will quote here and there – sometimes – from the content, but I also will ask questions (and give a few tips) about memoir writing. Here's a question to start you off,
Who reading this is also writing a memoir or has written a memoir? What is the memoir about (briefly)?
Okay, that was two questions. I'm a writer, not a mathematician.
The books' arrival I alluded to at the beginning are my author's copies, which this time the publisher sent directly from the distributor to me. Yes, we authors get our own copies, but at half price. The traditional reason for author copies is for us to sell them at readings, festivals, presentations, etc. we attend but the venue is not in a bookstore or the publisher isn't there to sell the books.  Or we want to give complimentary copies, for example to people who helped us with research, media book reviewers, etc.  In these COVID-19 days in-person presentations, etc. are on hold. But hopefully sometime in the first part of 2021, things will change for the better. So why the author's copies? Because some of them will go with my virtual book launch in November, which will have a bookstore (as in bricks and mortars) involved, although anyone will be able to purchase The Enemies Within Us at
Amazon and Chapters/Indigo online. Book sales there go live October 1, but pre-orders of the e-versions are available. Amazon also has the print version for pre-order.
And some of those complimentary copies, and I suspect a few books sold, wiLL go out to the buyer via Canada Post  – for those who want to get their book directly from the author (i.e., a signed copy). Hey, these are different times and we authors, like everybody else, have to adjust.
 I'll leave you with a sample of one of the photographs from my childhood. It shows Daddy, Mom and I on the veranda of the house I grew up in. In my memoir, I sometimes refer to the house as "139."
Cheers.
Sharon A. Crawford