It's here – Beyond Faith, the third book in the Beyond mystery series. Well, the cover is. Take a look.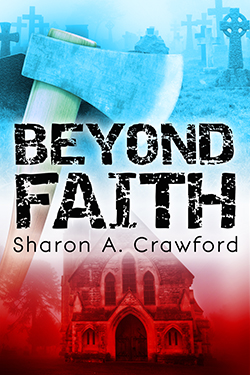 And here is what true crime author Nate Hendley has to say about the book.
Beyond Faith offers secrets, lies and death with a connection to the Catholic Church, set in small-town and big-city Ontario. It's a great story with a great pair of unlikely protagonists (a brother-sister pair of twin investigators), twists, surprises and Sharon Crawford's distinctive tone and shining dialogue. Recommended for any detective-story fans yearning for Ontario-based tales.
– Nate Hendley, true-crime author (Steven Truscott: Decades of Injustice and The Big Con)
And here's what I, Dana Bowman, have to say about it
I am thrilled. It perfectly illustrates my book. It…Oh, oh, I hear Sharon A. Crawford coming. She thinks she wrote Beyond Faith, but I have a thing or two to tell her about that.
Voice of Sharon: Dana, what are you up to now?
Dana, shrugging her shoulders: Just publicizing Beyond Faith – that cover is very intriguing. And very apt for the book's contents.
Voice of Sharon: Which I wrote.
Dana: Really?
Voice of Sharon: All right, Ms. Dana Bowman private investigator. That's enough. Get your you-know-what back in the agency office. Detective Sergeant Fielding wants a word with you.
Dana: Oh, all right. Coming.
Dana, looking up: Sharon is creating a Beyond Faith page on her website and it is rumoured to be going live soon. Meantime, check out hers and my upcoming appearances on that website under Books or under the Gigs and Blogs page here. See you next week.
Dana heads into the agency office.
Voice of Sharon: That Dana. Sometimes I wonder why I ever created her. But like she said…see you next week.
Cheers.
Sharon A. Crawford
the real author of the Beyond mystery books.