Author readings have been standard for authors to promote their books, but they can be boring. The operative word here is "can" which means you can turn your author reading into something different, something individual. Below are a few twists (and turns) I've tried.
1. Have the main character in your book dominate your reading. My main character in my Beyond mystery books is PI Dana  Bowman and I've made her into a real person (well, almost, although she thinks she is real). I have created an antagonism between Dana and me. Part of this antagonism is who wrote Beyond Faith – Dana or me? So I delve into that when I read.
2. Dana has a tendency to crash my readings. She hides at the back of the room or just outside the door of the room or in the case of a bookstore, behind a bookshelf. I warn my reading audience about her, including holding up an enlarged coloured photo of her,  and at the end, pretend to see her poking her nosey nose (well, she is a Private Investigator) at the back of the room, so I abruptly end my reading and go chase her.
3. Read with another author – literally. You read from each other's fiction and take the part of the main characters in the excerpts read. I've done this with literary author (nothing like mixing up the fiction genres), Michael Dyet and his short story collection  Hunting Muskie. We pick a theme and pick passages from there. With his short stories the passage has two characters. With Beyond Faith, sometimes more. And to make it interesting, Michael sometimes takes Dana's part so I can read her seven-year old son, David's part. And it works.
4. Use humour. Do skits with another author using two or more characters in your novels and expand what is going on in one novel into a comedy skit. Michael wrote a skit for us where Dana became the PI (instead of the cop  in one of Michael's short stories in the collection. And when the two met, it did not go well to the point of being ludicrous. In another skit with prolific literary author Shane Joseph, I wrote a skit where Dana seeks out one of his book's characters (George in the novel In the Shadow of the Conquistador) to find a possible relative of Sharon's – Shane had one of his character's last names the same last name as Sharon's maiden name – without knowing this when he wrote the book). The skit turned into a free-for-all, especially when the Blue Denim Publisher arrived on the scene to scold the feuding characters. Shane played two roles, but the skit worked.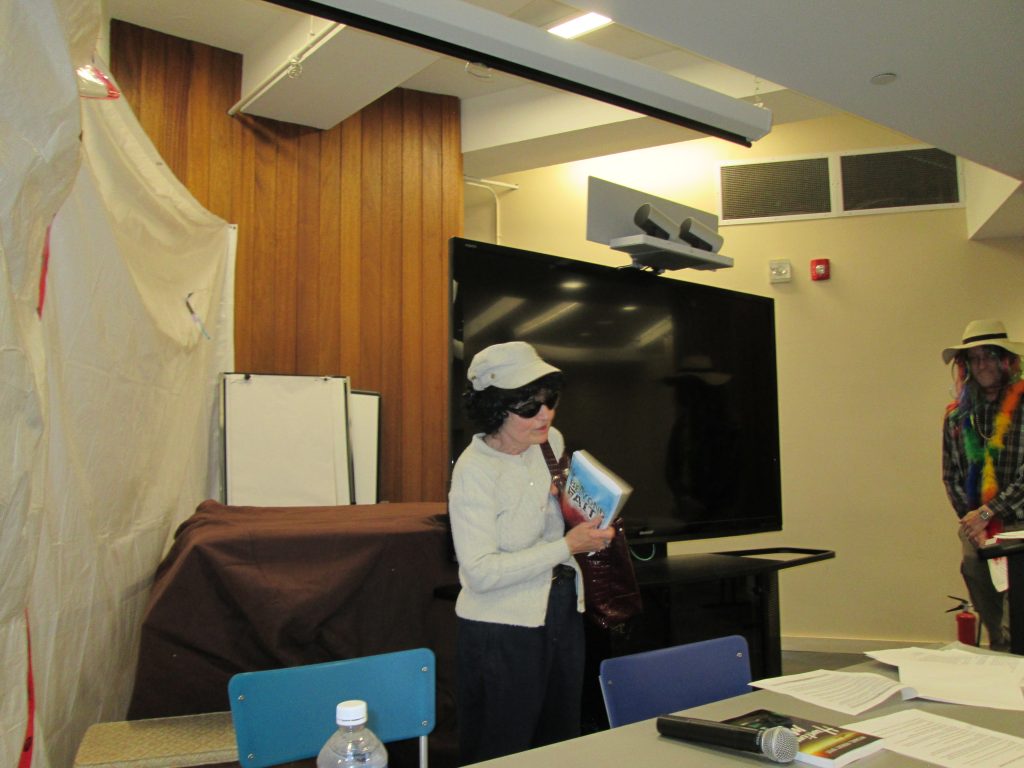 t
5. I've had Dana appear instead of me to promote Beyond Faith. Below she is with a bunch of other mystery authors from Crime Writers of Canada at an annual Ontario Library Association annual convention in downtown Toronto.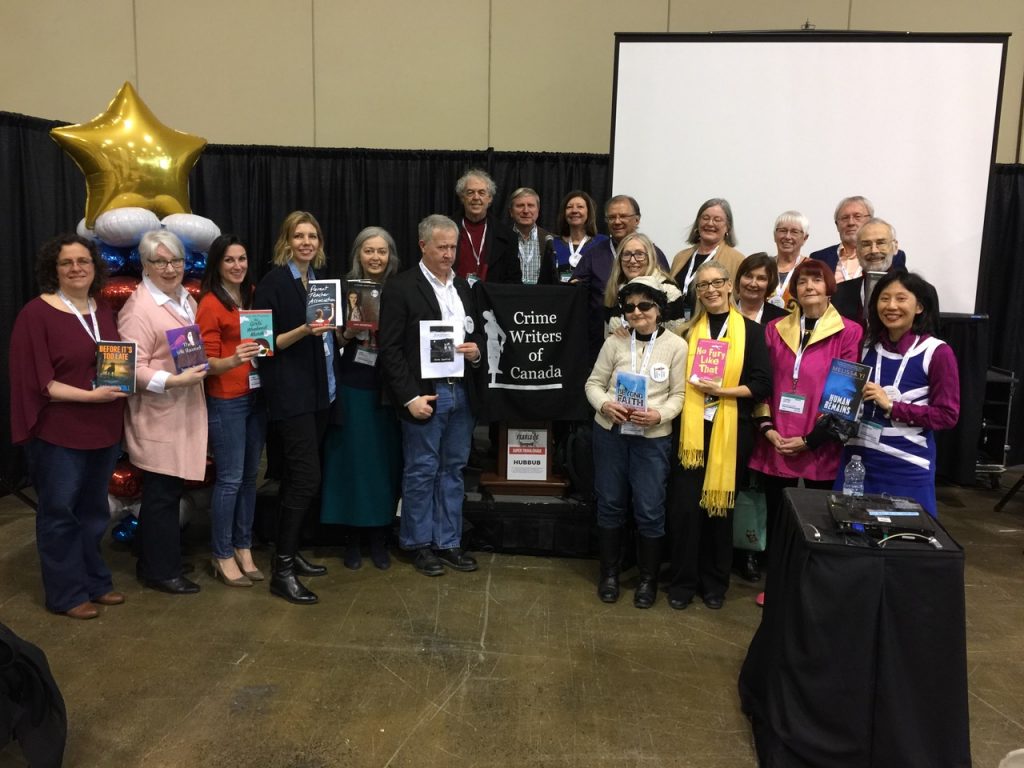 6. And you can take your author PR beyond readings to appear on panels, which I have done many times. I also host an online interview show Crime Beat Confidential on thatchannel.com where I interview people involved in some way with crime and mystery. Dana starts the show off, doing her usual Dana – dissing me and claiming she wrote Beyond Faith. But she also mentions the show's guest and when it was a real life private investigator, she interviewed her for part of the show. Usually I do all the interviewing.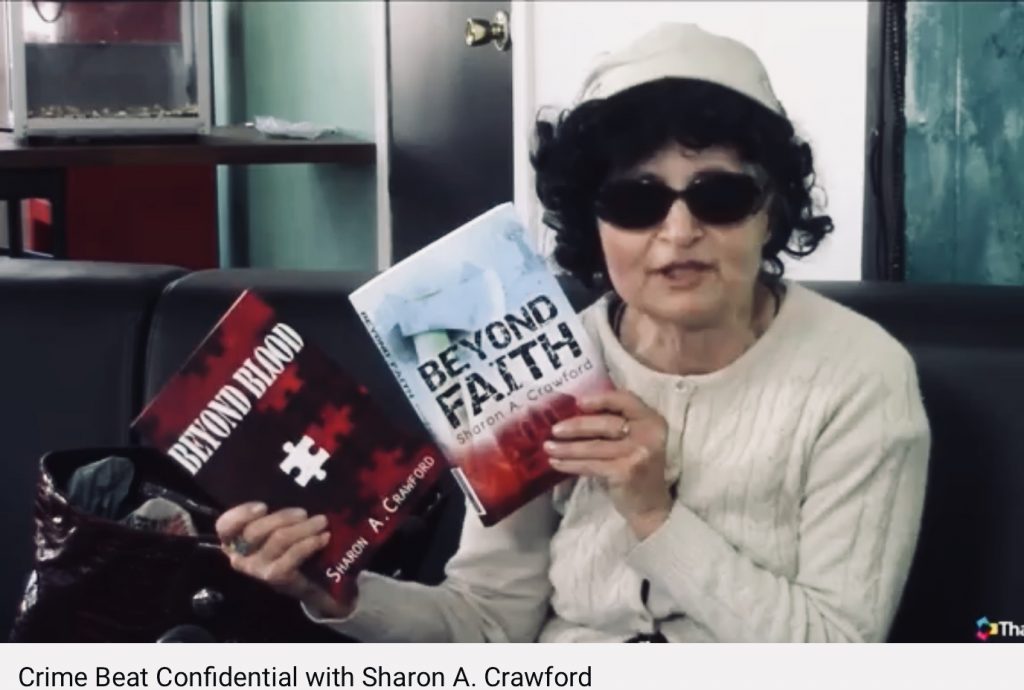 A link to the PI guest episode of Crime Beat Confidential is here.
And all this is a lead in to my Author Reading as part of a round of 11 Toronto Sisters in Crime reading each briefly reading a short excerpt from their published fiction. I will be focusing on a theme in my short passage and that's all I'll say. Except to add the details for these readings. So, if you are in the Toronto, Ontario, Canada area Thursday, January 16, 2020, here are the details.
Date and Time: Thursday, January 16, 2020, 7 p.m. to 9 p.m.
Location: Northern District Library, 40 Orchard View Blvd., Room 200, Toronto, Ontario, Canada.
Maybe I'll see you there.
If not, maybe you can get some ideas from what I do to enhance author readings for your own author readings. Happy readng.
Cheers.
Sharon A. Crawford
Author of the Beyond mystery series.